EVER WANT TO TRY THESE GREAT FOODS?????
Posted by admin
Aug 19
Hey, kids! Check out these great foods! A fun thought exercise…
Anchovy Swirl
Baloney Bologna (If you like bologna ice cream, which I assume you do)
Sardine
Spinach Slime
Tuna
Hotdog Hash
Marvelous Meatloaf
Salmon
Liver
Tripe Trifle
Asparagus
Ketchup-and-Mustard-and-Relish Camouflage
Salt-and-Pepper
Cheeseburger Chew
Turkey
Bacon
Sauerkraut Sundae
Broccoli Bonbon (If you love broccoli, you'll LOVE this!)
Turnip
Savory Sausage
Ravioli
Garlic
Cabbage
…plus the obligatory chocolate, vanilla, and strawberry.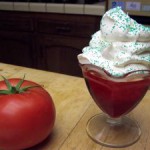 OTHER BEST FOODS IN THE WORLD
Frozen green pea soup on a stick
Chocolate-covered brussels sprouts
Pepperoni pizza with three scoops of vanilla ice cream and chocolate syrup
Spaghetti with marshmallows and gravy
Brussels sprouts with mayonnaise and peanut butter
Hamburger with cottage cheese, a pineapple ring, and a maraschino cherry
Hotdog with bananas, candy sprinkles, and French dressing
Oatmeal porridge with Thousand Island dressing and mustard
Jello with pickles and olives
Dill pickle milkshakes
Pickle Jello
Strawberries and gravy
Pepperoni pizza with licorice chunks, sliced bananas, marshmallows, mushrooms, and jelly beans
Chocolate ice cream with Chef Boy-Ar-Dee Ravioli
Chicken stew served in a cantaloupe
Ginger ale and ketchup
Cereal with salt on it
Tuna meringue pie
Chicken noodle Kool-Aid