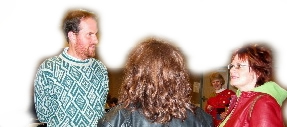 Meet autistic author Will Rogers

Share his experiences living with Asperger's Syndrome

Learn about his children's novel, The Stonking Steps
Welcome…
Will Rogers has high-functioning autism, Asperger's Syndrome, and uses this website to share his thoughts & experiences of living with Asperger's in a neurotypical society.
His viewpoint, Asperger's is a culture, not a disorder, offers unique insights into the different perspectives of our society & looks at the relationships between Asperger's & neurotypical people.
On this website you will find…
A blog with a series of Will's  living-with-autism related essays.
Information about Will's (non-autism related) children's fantasy novel The Stonking Steps.
Will actively seeks your feedback…
Will's goal is to spread a wider understanding of living with Asperger's & Autism, and to give insights into one high-functioning autistic person's perception of the relationship between Autism & general society.
Please feel free to leave comments, or send your thoughts & suggestions to Will.
Will is happy to answer your questions about his unique experiences of growing up with Autism & living independently as an autistic adult.
Will is also available for public speaking appearances, and offers his proofreading services to writers.
Please contact Will through the Contact page.
Thanks for visiting!